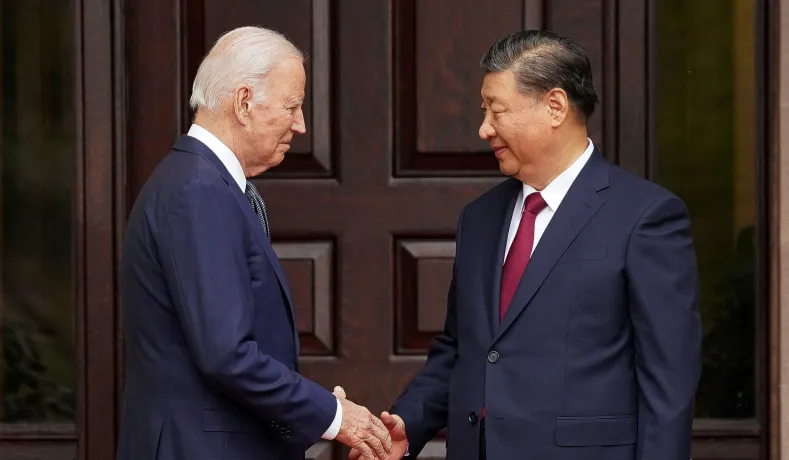 Dear Weekend Jolter,
The casual time traveler swooping into San Francisco this past week — and perusing the output of China's state media — would get the impression that Sino-American relations are on the cusp of a renaissance.
"I firmly believe in the promising future of the bilateral relationship," Xi Jinping, seated with his delegation, told President Biden, seated across a long table with his delegation, at one of their encounters on Wednesday. "To host you in the United States is a great honor and a pleasure," Biden said, as both leaders spoke of their desire to avoid "conflict." In the run-up to the summit, China's Xinhua news agency published a glowing piece on Xi's initial impressions of America from his 1985 trip to the same city and subsequent friendships he formed with Americans. "The enduring strength of such amicable bonds has always served as a wellspring of vitality for bilateral ties, both in favorable and in challenging times," the report gushed. If there was any doubt the U.S. sought to reciprocate these good feelings, look no further than the why-didn't-they-do-this-before clean-up of San Francisco's streets for evidence of the assiduous care dedicated to our role as host.
Of course, the bonhomie on display was mostly . . . for display. In terms of concrete wins for America, Xi signaled China would be sending new pandas to the U.S. as "envoys of friendship," after the National Zoo's were shipped back earlier this month; chances of war over Taiwan immediately plummeted. NR's editorial lays out what we, realistically, can expect from this week's Xi–Biden meeting:
The optimistic case for the Xi–Biden meeting is that the two leaders will achieve progress on a number of topics, including the use of artificial intelligence in military systems, China's role in American drug fatalities, the war in Gaza, and, most important, getting the two countries' top military officials speaking about reducing risk in the Indo-Pacific (something Beijing has blocked).
Any positive outcomes, though, are likely to be illusory. Xi famously lied to President Obama when he promised that China would not militarize the South China Sea, and China also clearly abrogated a hacking agreement it signed with the U.S. in 2015. In its annual report yesterday, the U.S.–China Economic and Security Review Commission put it aptly: Xi is just buying time as the party continues to pursue a historic military buildup and deal with economic and social problems at home. Its overall intentions remain malign.
Attempts to repair the U.S.–China relationship famously stalled after the U.S. downed an alleged Chinese spy balloon in U.S. airspace in February. The U.S. has since banned certain tech investments in China, moved to crack down on AI chip sales to China, and increased military assistance to Taiwan (all issues Xinhua griped about in a separate writeup on Xi's visit). That aside, the powerful Chinese leader visited the U.S. this week at a moment of some vulnerability at home. As one observer told the Washington Post, "Xi needs the summit more than Biden does. He needs to show he's respected." His regime's "zero-Covid" approach prompted widespread protests in China before a reversal; the country is struggling economically and in other ways. Yet NR's editorial notes that some details of Wednesday's meeting reflected "an American eagerness to please." U.S. business leaders gave Xi a standing ovation. It's unclear how firmly the administration used this moment to press for priorities like the release of political prisoners, an end to human-rights abuses, and an end to the harassment of Western jets and ships (a White House readout says these issues came up, as did the need to combat "illicit drug manufacturing and trafficking").
While Biden and Xi understandably want to ease tensions, the reality remains that China's belligerence and near-confederacy with some of the world's worst actors prevent much cooperation beyond that aim. (In the White House readout, the words "cooperation" and "competition" appear with the same frequency, no doubt deliberately.) As Seth Cropsey writes in the most recent issue of NR, "Russia, China, and Iran have forged an entente with clear resemblance to the Axis of the mid 20th century." Jimmy Quinn reported this week on a U.S. commission's findings concerning a "'small but growing' amount of evidence that China is seeking to influence America's elections." Biden, after Wednesday's meeting, reiterated his assessment that Xi is a "dictator," technically speaking.
Secretary of State Antony Blinken's reaction said it all. In all likelihood, it won't be long before Xinhua reverts to prior practice of blasting America's "coercive diplomacy," "evil" intentions, and "hegemonic interests."
As we've seen, a significant chunk of the activist left views the conflict through the lens of big, powerful Israelis and poor, underdog Palestinians, and no matter how intensely the facts on the ground contradict that simple narrative, they will not allow themselves to reconsider their prior assumptions. As I put it at the beginning of the month, "I think a bunch of Americans, at some point in the past, pushed all their chips to the center of the poker table and bet that the Palestinians would be seen as the good guys in this conflict. Then they lost that bet, and they're so shocked by that turn of events that psychologically, they can't deal with it." And so they're tearing down posters of the kidnapped hostages, insisting that it's all Zionist lies, labeling footage of the Hamas massacre "propaganda," and so on. There is a reflexive psychological denial at work.
That's why it was so refreshing to see a couple of high-profile progressives just hit it out of the park in their remarks at Tuesday's rally on the National Mall in support of Israel and the American Jewish community.
Don't get me wrong, House Speaker Mike Johnson's remarks were excellent, and I don't want to downplay them. It's just that you expect a conservative Republican speaker of the House to be a stalwart supporter of Israel. Similarly, Senate Majority Leader Chuck Schumer is a longtime friend of Israel, and everyone would expect him to forthrightly stand with the world's lone Jewish state.
But House Minority Leader Hakeem Jeffries has a caucus to run that has members of "the Squad." Also, 188 House Democrats voted against censuring Michigan Democratic representative Rashida Tlaib for her comments, which included accusing President Biden of supporting genocide. There are a lot of House Democrats who want to support Israel, but who also want to avoid any clash with their colleagues.
Those of us with long memories, or who grew up in the New York City area in the early 1990s, can remember the long string of infamous comments from the minority leader's uncle, professor Leonard Jeffries. Hakeem Jeffries has always been a little slippery about just what he remembered and supported during that time.
But yesterday, Jeffries declared where he stands, loudly and clearly.
In politics, one of the hardest decisions is whether to do something you think is right when it's being demanded by the wrong people for the wrong reasons as part of a campaign to accomplish the wrong ends. That's where the Supreme Court has found itself in the debate over publishing a code of ethics for the justices. Today, the Court did so. It will get no credit for this from its critics, but the code is a positive step and one that deprives them of a bad-faith talking point. It makes it easier for members of the public and the bar to review in one place the standards that the justices hold out as governing their own behavior. It makes it harder for Congress to justify enacting legislation that would impose a code of dubious constitutionality.
The well-financed campaign to paint the conservative justices (and only them) as unethical is only one prong of a wider effort to intimidate and/or discredit the Court and its justices by physical protest, threats of violence, smears, and proposals to restructure the Court. Nonetheless, it has had an effect because members of the public who don't follow the Court closely just keep hearing that the justices not only are acting unethically but are also not subject to any rules.
That was always nonsense. Recusal for conflicts of interest, for example, is not only governed by a federal statute that applies to the justices but also illuminated by the Court's own precedents in written opinions and, in at least one case, a joint letter by several members of the Court regarding the standards to apply when a relative of a justice practices law with a firm that has business before the Court. . . .
As far as accepting gifts is concerned, the code mostly restates that the justices are governed by the Judicial Conference Regulations on Gifts. The code bars family members from accepting any gift the justice could not, and it extends to "any member of the Justice's family residing in the household," defined to include "any relative of a Justice by blood, adoption, or marriage, or any person treated by a Justice as a member of the Justice's family." That is fairly clearly written to cover, going forward, the potentially ambiguous situation of Justice Clarence Thomas's grandnephew, who was raised by Thomas as if he were his own son, and whose tuition was paid by Harlan Crow. Under the new rule, it is clear that Thomas could accept such a gift to his grandnephew only if he believed that he could accept it himself. The rule would not, however, apply to Thomas's elderly mother, who does not live with him.
Every superhero has an origin story: the initial event that sets the hero on a path to greatness. For the so-called Marvel Cinematic Universe (MCU), the most consistently high-performing brand in movies of the past 15 years, it was 2008's Iron Man. Starring Robert Downey Jr. as Tony Stark and his heroic persona, Iron Man was a hit. From then through 2019's Avengers: Endgame, Marvel put forth a dizzying array of interconnected movies, with the characters jumping in and out of one another's flicks and occasionally crossing over en masse. And it worked: The 32 movies made almost $30 billion worldwide. The few misfires and middling results along the way were largely forgiven, swept up in the seemingly unstoppable momentum of the franchise.
Every superhero also faces challenges — and a villain (typically a dark mirror of the hero). Now, Marvel itself faces serious challenges to its own success, and they come from the only source that could defeat it: itself.
The Marvels, released in theaters this past weekend, shows some of these challenges and the effect they are having. Box-office figures for MCU No. 33 are grim. Its North American opening-weekend gross of $46 million is the worst of any MCU film dating back to 2008. That includes some movies many have probably forgotten about entirely, such as The Incredible Hulk (starring the soon-recast Edward Norton) and Thor: The Dark World (begrudgingly aired on FX during its Saturday-afternoon Marvel marathons, ideal for folding laundry). It's also a drop of more than $100 million from the opening weekend of Captain Marvel, the 2019 film starring Brie Larson to which this is a direct sequel. It's even below some comic-book movies from the past year or so that were widely seen as disappointments, such as The Flash. Critics, who are generally kind to if rarely rapturous about Marvel's offerings, were not too keen on it either.
It's an embarrassing result, below even the most pessimistic projections. And an ominous one for the MCU. The post-Endgame aimlessness that has inspired many (including me, back in 2021) to wonder if Marvel had peaked has become plain to see. It was, in part, inevitable, and not in the way the archvillain Thanos merely claimed to be. As a recent article in Time on Marvel's troubles noted, "The years following 2019's Avengers: Endgame were always going to be a rebuilding period for the MCU." The build-up of characters and storylines from 2008 to 2019 was meticulous and multifaceted. And the unifying presence of the "Infinity Stones" as all-powerful MacGuffins and Thanos as the antagonist seeking them gave a unifying thread. It would take a while to replace that. But Marvel has sure been taking its time. Though some of the post-Endgame efforts, such as Spider-Man: No Way Home, have been compelling in their own right, there has yet to be a coherent and propulsive narrative drive to the MCU post-Endgame. In the sprawling "multiverse" that seems to be Marvel's next big thing, things are happening, movies (and TV shows) are coming out, but it's not clear why.
From our friends and partners over at National Review Institute, now accepting applications for the 2024 Burke to Buckley program. Here's how to get in on this:
Before you finish that last bite of turkey . . .
Consider applying for our Burke to Buckley Fellowship Program in Miami, New York City, or Philadelphia. The ideal applicant for the program — which helps participants develop a deeper understanding of the foundations of conservative thought — will be a mid-career professional (around 35–55) who works in industries and professions that could include oil and gas, technology, finance, real estate, medicine, sports, law enforcement, legal professions, education, nonprofits, and the arts (these are just some of the professions represented by past fellows!).
The program takes place over eight moderated discussions, most of which take place over dinner at a private club. The 2024 classes will run from late January to early May. Moderators include popular NR writers and leading academics at local universities. The rewards of participating are deep and meaningful discussions around important topics, as well as the chance to meet a new and diverse group of peers. The deadline to apply is December 22, but we encourage interested conservatives, libertarians, and the curious to apply as soon as possible.
You'll find more information about the program here. What if you don't live in one of the three program cities, but know folks who do and who might be NRI fellow material? Go ahead and share this link.
Apply now, before that turkey gets cold.