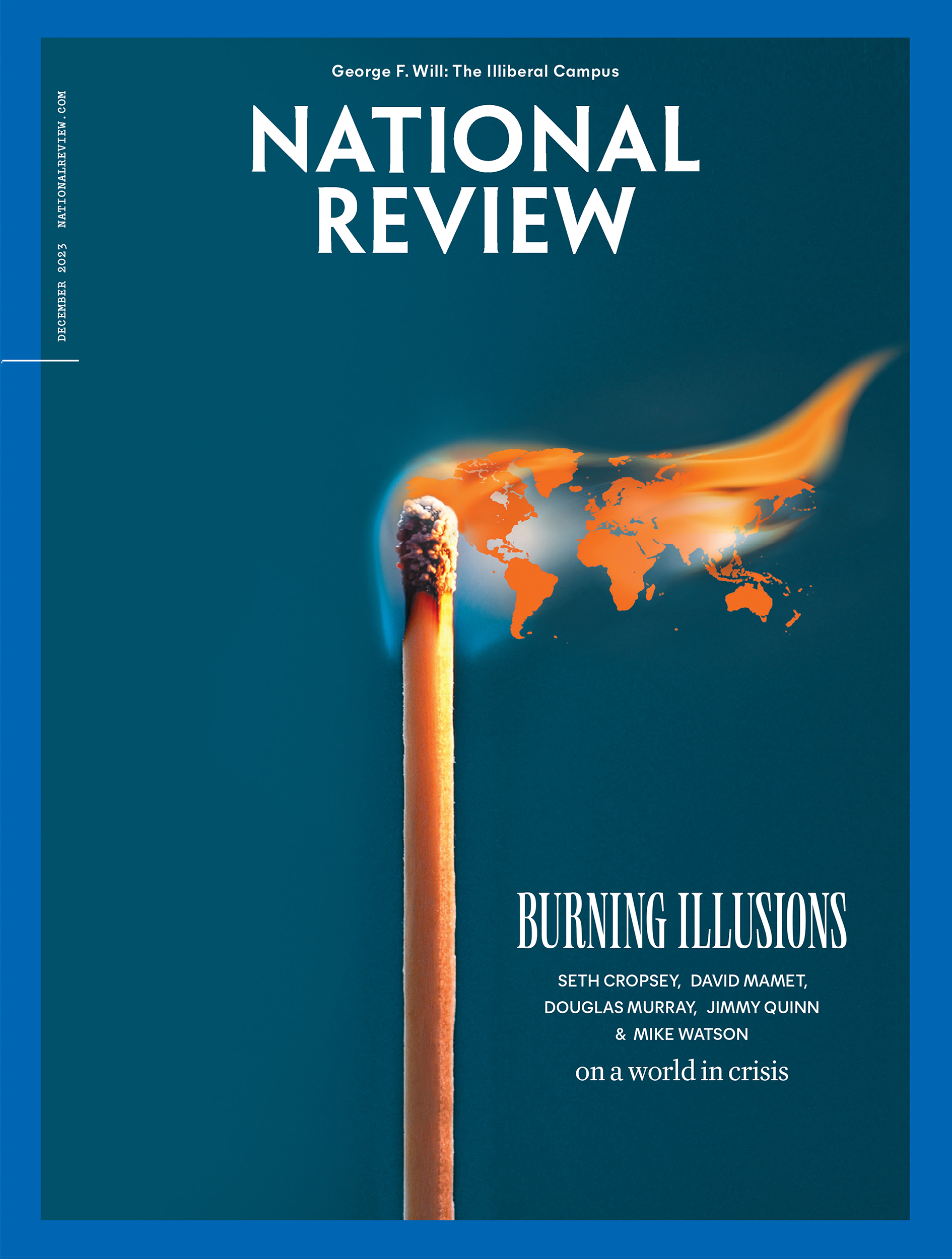 "The unfolding series of wars and crises around the world has shown that the international order is profoundly unstable," Mike Watson writes in the cover story of the new issue of NATIONAL REVIEW.
There was once widespread hope that it need not be this way.
According to Watson, after the fall of the Soviet Union, too many in the overly optimistic West believed that "democracy and human rights could advance around the world, Communist China could learn free trade, Russia could come into the fold, Europe could unite and become a great and independent power, and none of it would require much spending on the military, diplomatic, and aid tools of foreign policy."
"The future," Watson muses about that mentality, "would be like the finale of Independence Day, with all the peoples of the world united behind American leadership to defeat invading aliens — or, sober-minded fantasists believed, more-realistic threats such as the erosion of the ozone layer."
As Watson explains in "The Fragility of Civilization," Americans must quickly learn the truth about our precarious situation. Though some Americans argue that "Russia's attack on Ukraine and Iran's proxy attack on Israel are unconnected," and while it may be true that the new Axis of China, Russia, Iran, and North Korea is not one of complete trust and seamless cooperation, the growing list of Western — and especially American — failures of deterrence have left us perilously weak.
The fall of Afghanistan was a humiliation. Appeasing Iran has made the Middle East more violent. China's military budget has rocketed up to $700 billion a year, while American defense spending as a share of our economy drops ever lower. Many of the Eastern Europeans are arming themselves as fast as they can, but the Germans are dragging their feet. And now that Russia has attacked Ukraine a second time, seven of the ten largest economies in the world are losing a war of attrition to the eighth-largest. In international forums, Western diplomats tie themselves in knots to lay out the challenges without offending their adversaries. They are hashing out the distinctions between magma and lava while their shoes catch fire.
"The incompetence is staggering," Watson writes. "Something must change."
Read the whole thing here.
And while you're at it, you can explore the entire December 2023 issue, including:
You'll find all this and more — the world-famous "The Week," book reviews and film criticism, Rob Long's gonzo satire — in each and every issue of NATIONAL REVIEW magazine.
If you're not already a subscriber, we'd love to have you join the NR family. You can sign up for a print-and-digital NRPLUS bundle today for only $75 — that's more than 40 percent off the cover price.
If you'd like to sign up for just the redesigned print magazine, you can subscribe for a full year for only $30.
Or you may want to give the gift of NR to someone you know — like that college student in your life.
NR couldn't exist without our readers and supporters. To all of you, thank you.
Very sincerely yours,

Mark Antonio Wright
Executive Editor
I'm a new Text block ready for your content.